Highlights
The country has completed 100 crore vaccination figures
Delhi BJP put up posters thanking PM Modi
PM Modi reaches RML Hospital to meet health workers
New Delhi
The country has achieved a major milestone in the ongoing war against the corona virus. The number of corona vaccinations in the country has now crossed 100 crores. Several events have been planned to celebrate the 100 crore doses given in the country. Delhi BJP has put up posters thanking PM Modi in the capital last evening itself.
India has injected 100 crore doses of corona virus vaccine. On this occasion, PM Modi has reached Ram Manohar Lohia Hospital in Delhi. PM Modi will meet health workers here.
The biggest tricolor will be hoisted
The largest Khadi tricolor in the country will be hoisted on Thursday at the Red Fort on completion of 100 crore doses given under the ongoing vaccination to protect against Kovid-19. Official sources gave this information. He told that the length of this tricolor is 225 feet and width is 150 feet and its weight is about 1,400 kg. He said that the same tricolor was hoisted in Leh on October 2 on Gandhi Jayanti.
Health Minister will release song and film
Several events have been planned to celebrate the 100 crore doses given under immunization in India. Mandaviya will release singer Kailash Kher's song and audio-visual film from the Red Fort on the occasion of giving 100 crore doses in the country.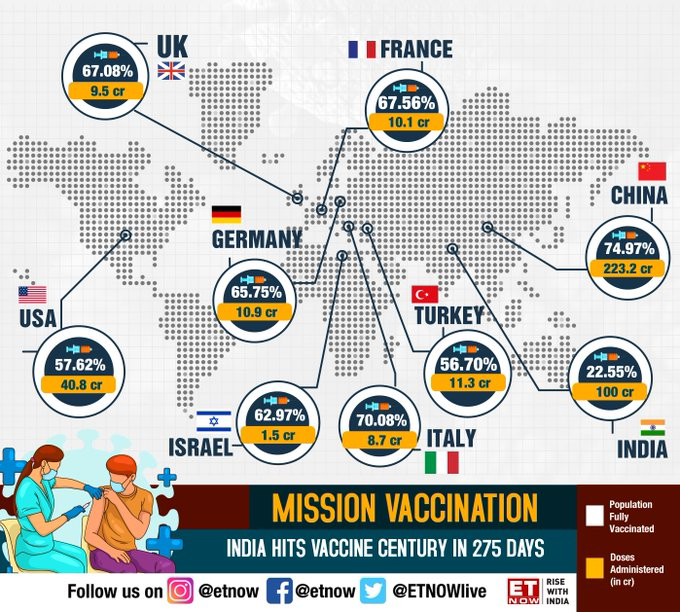 SpiceJet will issue special uniform
On the other hand, SpiceJet will issue a special uniform at the Delhi airport on Thursday on achieving 100 crore doses. Health Minister, Civil Aviation Minister Jyotiraditya Scindia and SpiceJet Chief Managing Director Ajay Singh will be present on the occasion.